Leadership and Governance
Learn more about AILA National's leadership and goverance structure and meet the 2023–24 Executive Committee and Board of Governors.
If you are an AILA member, log in to visit the member version of this page.
Executive Committee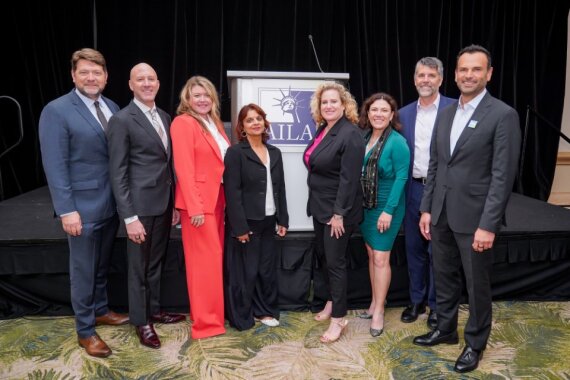 AILA National Officers are elected by the membership at the AILA Annual Meeting every June and serve for a term of one year. The National Officers together with AILA's Executive Director comprise the Executive Committee, which is responsible for guiding the ongoing activities of the association between meetings of the Board of Governors.
2023–24 Executive Committee
Farshad Owji, San Francisco, CA, President
Kelli Stump, Oklahoma City, OK, President-Elect
Jeff Joseph, Aurora, CO, First Vice President
Alexis S. Axelrad, New York, NY, Second Vice President
Jacqueline Watson, Austin, TX, Treasurer
Rekha Sharma-Crawford, Kansas City, MO, Secretary
Benjamin Johnson, Washington, D.C., Executive Director, ex officio
Advisor to the 2023–24 Executive Committee
Jeremy L. McKinney, Greensboro, NC, Immediate Past President
Board of Governors
The AILA Board of Governors is comprised of 4 segments: the elected National Officers, 21 elected at-large Directors who serve staggered 3-year terms, the Chairs of AILA's 39 chapters, a representative of the New Members Division appointed by the President, and Past Presidents who are active and meet the attendance requirements. Other Past Presidents become members of the Board Emeritus.